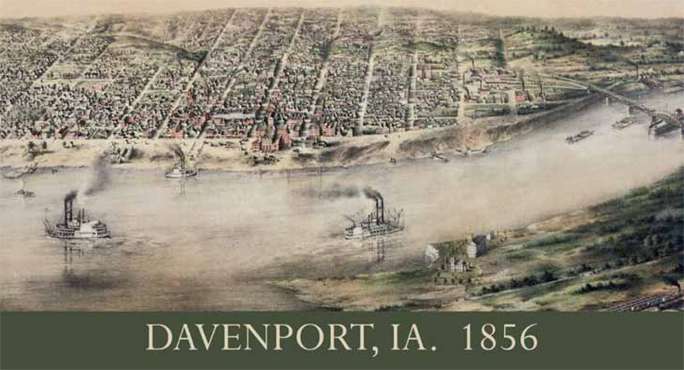 Join River Action and take a step into 1856 at the LeClaire House in Davenport for the "Museum Without Walls" fundraising event Sunday, Sept. 24.
Enjoy re-enactments of Antoine LeClaire, Buffalo Bill, a fur-trader, drummers and dancers from the Native American Coalition, Henry Farnam, and members of the 3rd Iowa Cavalry.
Learn about the Effie Afton steamboat accident and listen to recollections of the Black Hawk Treaty signing.
The documentary "East Meets West: The First Railroad Bridge to Cross the Mississippi River" will be shown continuously throughout the event, and a play about the first bridge across the Mississippi River, written by Chuck Oestreich, will be performed at 3 p.m.
Proceeds from the fundraiser will benefit Museum Without Walls, which consists of 12 historic sites in and around Davenport relating to early settlement of the area.
Museum Without Walls sites include the location where the Black Hawk Treaty was signed, the Antoine LeClaire House, the Fred B. Sharon House, the marker where Dred Scott lived, the Col. Davenport House, Fort Armstrong, the statue "Lincoln with Boy on Bridge," the John Brown Freedom Trail, the Mormon Wagon Trail, River Heritage Park, and the site of the first railroad bridge across the Mississippi River.
An effort is under way to build a pedestrian bridge similar in design to the first bridge crossing. The replica across U.S. 67/East River Dr. would be built at the site of the first rail bridge. To learn more about the first railroad bridge across the Mississippi River, visiting www.riveraction.org/bridgehistory.