Register early – by May 5 – and you'll be entered automatically into a drawing to give away two bike helmets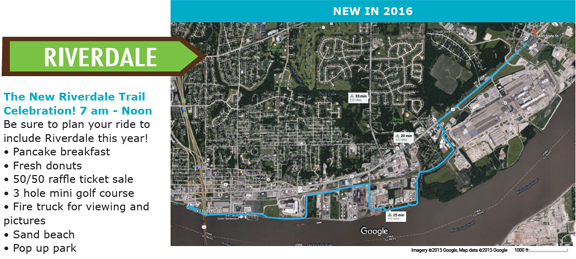 River Action's 32nd Annual Ride The River will be Father's Day, Sunday, June 19.
Enjoy a bi-state tour of the Quad Cities along riverfront bike trails and cruise on the Mississippi River on the Celebration Belle riverboat from Iowa to Illinois. Or, ride across the historic Arsenal Bridge.
Come join the fun with the whole family for this Father's Day tradition!
CLICK HERE to register online early and save on registration fees and T-shirt prices.
CLICK HERE to download the 2016 Ride The River brochure with mail-in registration form.
The Route: Open 7 a.m. to 3:30 p.m.
Plan your own ride! The basic route is marked on the map, but there are many optional trails and loops for rides of up to 60 miles with lots to see along the way.
Begin at the Quad City Times, Davenport, proceed to Leach Park, Bettendorf, and cross the Mississippi River to Moline on the Celebration Belle.
Those crossing by bridge will cross the Arsenal Island Bridge and continue the route to the suggested turn around, returning to Davenport via Arsenal Bridge (open until 3 p.m.) or Centennial Bridge (open until 3:30 p.m.).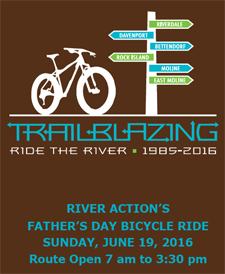 All total, you can trailblaze through nine communities, see the new Riverdale trail, and ride through Arsenal Island.
Riverboat Crossing Option
From Bettendorf, cross the Mississippi on riverboat while your bike goes on a barge. At the Illinois landing, grab your bike and continue your ride. (See registration form for boat crossing times.)
Arsenal Bridge Crossing Option
From the Davenport path, ride across the Arsenal Bridge. (See crossing times on registration form.)
Arsenal Island Trail
Arsenal Island is open for riders 7 a.m. to 2 p.m. All cyclists should enter and exit through the Rock Island and Moline gates. Riders 16 and older must show photo ID. No weapons, explosives or pets allowed. Follow route marked for Ride the River and stay on the right side of all roads and trails. Riders must wear helmets on the island.
FUN & FREE EXTRAS!
Riverdale Trail – This new portion of the riverfront trail is open from Bettendorf to Riverdale. Special activities include a pancake breakfast, 3-hole mini-golf course, fire truck viewing, sand beach and "pop-up park."
Pop Up Park in Moline at the Rowing Club.
Free Bell – The first 500 kids registered receive a free bike bell, donated by the Noon Kiwanis Club of Davenport who will also be on hand at registration to install the bells.
Free QC Times Drawing – Win a 1-year subscription to the Quad City Times.