The Sylvan Island area is home to a demonstration project for which River Action program?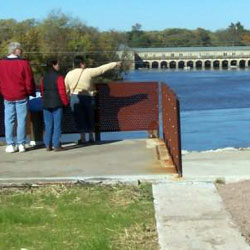 CLICK HERE for information about the Sylvan Natural Area, a demonstration project of River Action.
The Sylvan Slough Natural Area is a unique five-acre site blending education, history and environmental stewardship among an ever-changing canvas of native flora.
The area incorporates bioswails, permeable paving, native plantings, and other initiatives designed to educate the public about reduction of storm water runoff. Interpretive signs describe water retention features of the natural area, the innovative method used to clean up contaminated soils on the site and the industrial history of Sylvan Slough.
The area's overlooks offer year round views of historic Sylvan Island, Arsenal Island and the Arsenal Power Dam. In winter, the overlooks provide the perfect perch for watching and photographing bald eagles as they feed in the open water.
The Sylvan Slough Natural Area began as an effort by the City of Rock Island to clean up three blighted industrial properties ravaged by fire and neglect. The opening of The Great River Recreational Trail shined a glaring light on this area obscured from public view by the two-million-square-foot industrial complex formerly occupied by International Harvester.
The site held three large buildings once home to a variety of industries including an egg-cracking facility, a slaughter house, and the 50-year home of Midway Oil, a bulk oil distributor. Weeds were growing unchecked, and the grounds were covered with abandoned semi trailers, cars with missing parts, tires, broken furniture, trash bags and other illegal dumping.
The city partnered with the Illinois Department of Natural Resources to purchase the properties with funds from the Open Lands Trust Program. The Illinois DNR saw the value of the site for boat and bank fishing which occurs year round because of open water from two nearby power dams. Fish species include blue-gill, large-mouth bass, catfish, white bass, walleye and carp. The slough is an active fish spawning area. Wildlife includes migratory waterfowl, songbirds, turtles, and small mammals.
A second city partnership with River Action resulted in this demonstration area for the organization's Retain the Rain Program. The site is designed to absorb nearly all precipitation that falls on it and runoff from adjacent property. A bioswale captures rainwater and slowly releases it. A parking lot made of permeable concrete channels rain and snow melt down to its gravel base. Permeable paths are composed of ground up brick over rock. Native plantings with six- to 12-foot roots absorb much more precipitation than shallow-rooted turf grass.
Buildings were surgically deconstructed to form the architectural features of the natural area and allow salvaged material to be reincorporated into the landscape. Materials suitable for reuse onsite were separated from materials hauled to a landfill. Fill material was placed in basements. Brick was ground up and used as permeable paths, and precast panels were removed intact to be used as risers and walkways.
Soil contamination was treated through bioremediation. Tainted soil was excavated and mixed with aged wood chips and horse manure to biodegrade the contaminants through composting. The cleaned compost mixture was returned to the excavations.
The natural area opened to the public in October of 2007. Maintenance of natural plantings, particularly weeding, is intense during the first two years of growth. Future maintenance is expected to be much less than a traditional park.