How did Credit Island get its name?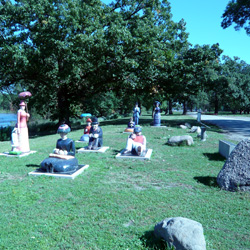 CLICK HERE to find out how Credit Island got its name?
Credit Island has had several names over the years and served various purposes for local residents.
The current name comes from the island's use as a fur trading post. In the early 1800's, local Native American tribes and fur traders met here in the fall. The tribes would be given trapping and other supplies on credit. They would hunt and trap over the winter, then return in the spring to settle up accounts with the traders.
During the War of 1812, the local Sauk tribe sided with the British. In response, Brevet Major and future president Zachary Taylor led a force of 430 men sent to burn the Sauk village of Saukenuk on the Rock River.
Strong winds forced Taylor to anchor off the island where the Sauk attacked and defeated the American force. This was the second defeat suffered by American forces in this area and was the last attempt to regain control of the Upper Mississippi.
During the mid and late 1800's, the family of John Offerman owned and farmed the island.
Around 1900, the island was known as Suburban Island and began being used for recreation purposes. A swimming beach, a figure eight rollercoaster and other amusement park attractions brought Davenport residents to the island on summer days. A trolley ran on a bridge and connected the island to the riverbank.
The island also served as an airstrip for early aviators. In July 1916, the Davenport Aviation School was founded there. The teachers and students built their own aircraft including a hydro-plane for landing and taking off on water.
In July 1917, the students completed a bi-plane and began flying it from this island. The school closed a few months later when the instructor was injured and the school's president killed when the plane crashed into the river. Other aviators also used it as a landing strip when making demonstration flights in the area.
Today the island serves as a park operated by the City of Davenport.