What's the oldest residence in the Quad Cities?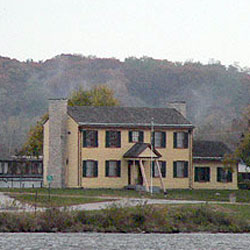 CLICK HERE to find out the oldest residence in the Quad Cities.
When the 8th U.S. Infantry built Fort Armstrong in 1816, its mission was to establish the presence of the federal government in the region and provide protection for settlers attracted to the wild, rich land.
George Davenport, who originally accompanied the soldiers as their sutler, later prospered as an agent of the American Fur Company. He directed a network of fur trading posts that provided goods for the local Native Americans.  
During the Black Hawk War of 1832, Davenport served as the quartermaster for the Illinois militia and U.S. troops. This earned him the honorary title of colonel and $20,000 in compensation.
With his increased prosperity, Davenport wanted an impressive home. Completed in 1834, the house became the center of local commerce and a crossroads for trade in the region. Two significant meetings were held in the house during Davenport's lifetime.
At the first railroad meeting, prominent citizens came together to support a transcontinental railroad and build a bridge locally, the first rail crossing of the Mississippi River. During a second and separate meeting, the city of Davenport was mapped out and named in his honor.
Davenport was murdered in his home on July 4, 1845 by members of the "Banditti of the Prairie," who were looking for gold.
The Federal style house was built using basic carpentry techniques. The skeleton of the house is a log structure. The logs were squared, furring strips were secured to the exterior, and pine clapboards were attached. Later, frame construction techniques were used to add the east and west wings and the southern kitchen wing. 
After the Civil War, the house was unoccupied and fell into disrepair. The first project to restore the building was undertaken in 1907. At that time, the three wings and all the outbuildings were razed. The west wing that George Davenport used as an office was rebuilt in 1998.