When did Davenport's Figge Art Museum open?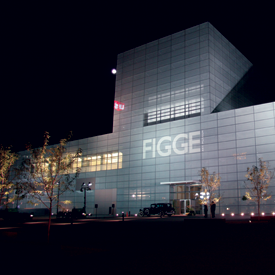 The Figge Art Museum opened at its new home on the banks of the Mississippi River in August 2005. The 114,000-square-foot facility was designed by British architect David Chipperfield.
Its combination of reflective, transparent and opaque surfaces continuously transforms the appearance of the façade in relation to the sun and changing cloud patterns. The building is a civic landmark in downtown Davenport and furthers the museum mission as a regional exhibition space and a community education center.
The original art museum opened as the Davenport Municipal Art Gallery in 1925 with a gift of 350 European and Mexican Colonial paintings, creating the first municipal art gallery in the state of Iowa. Today, the collections include more than 3,500 paintings, sculptures and works on paper from the 16th century to the present.
In 1987, the museum changed its name to the Davenport Museum of Art. Then in 2003, the museum relocated to the heart of downtown Davenport, following a major capital campaign. In recognition of the $13.25 million lead gift to the new building project from the V. O. and Elizabeth Kahl Figge Foundation, the museum was renamed the Figge Art Museum.
The Figge Art Museum is the premier art exhibition and education facility between Chicago and Des Moines. With soaring glass walls reflecting the constantly changing sky, the museum's expansive galleries and intimate rooms are home to some of the Midwest's finest art collections.
Studio-style classrooms allow young and old to participate in the creative process.