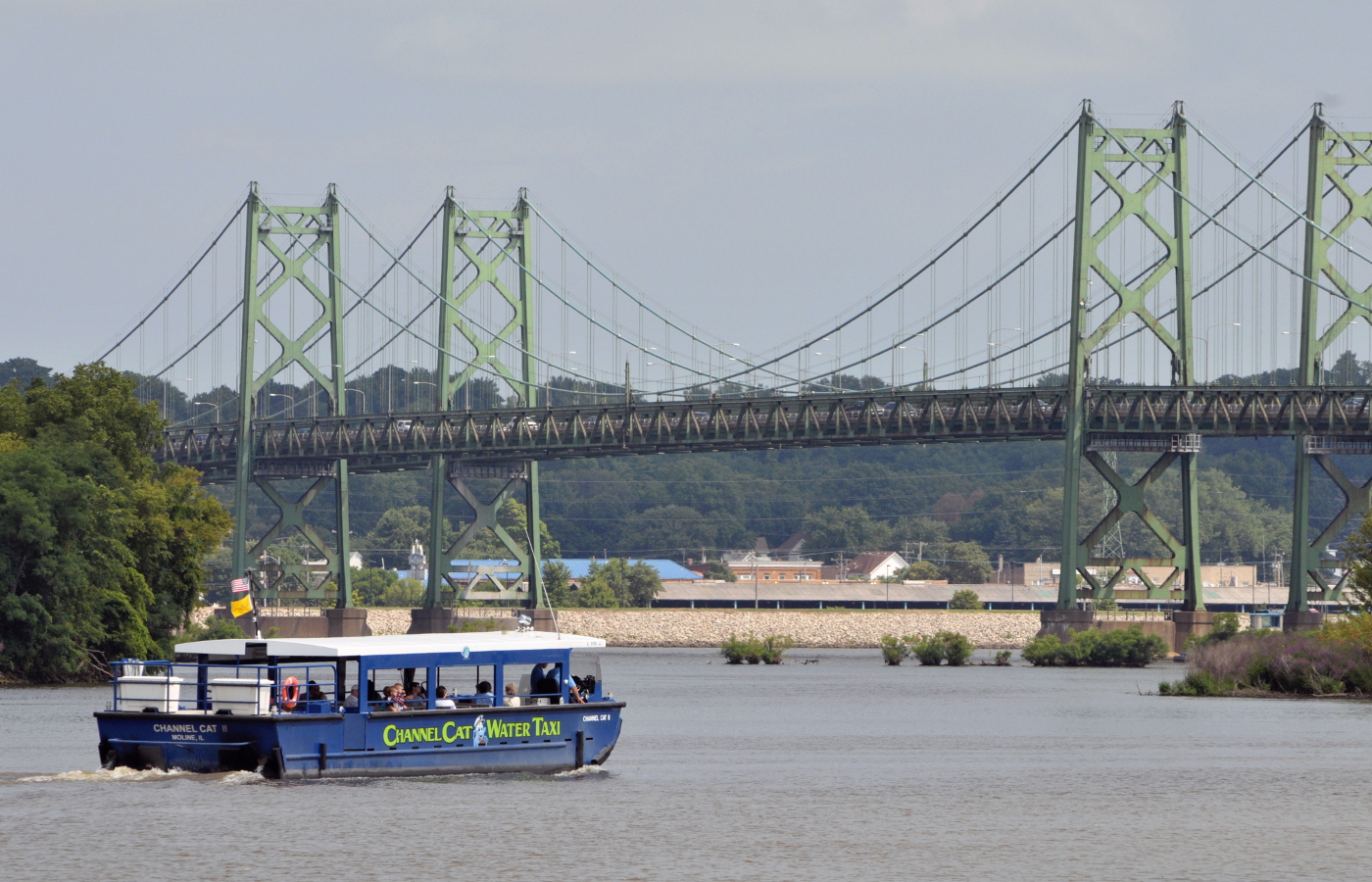 Check out the 2019 'Explore the River Series'
Explore the river this summer through a program which teaches participants first-hand about the wildlife, history, culture and geology of the Mississippi River and the Quad Cities through Channel Cat Talks and Riverine Walks, May 28 through August 31.
Join us in learning about the unique nature and culture of the Quad Cities. Check out our schedule below and register online.
We'd like to extend a special thanks to to our sponsors this year: Illinois Humanities, US Bank, Quad City Times, MetroLINK, Mancomm, Greg & Judy Gackle, and the Iowa Department of Natural Resources.
When registering online, the shopping cart will add the two programs (Channel Cat Talks and Riverine Walks) together unless you "Clear" the cart between viewing the two different shopping cart links below.
Popular I-74 Bridge project tours back
This year there will be a total of eight Channel Cat Talks focused on the new I-74 Mississippi River Bridge Project aboard the Channel Cat Water Taxi.
Sorry, the I-74 tours are sold out.
Join Danielle Mulholland, I-74 project manager, as she discusses the planning and construction process for this important east-west link in the nation's transportation network. You'll learn about the design and building process of the new $1.2 billion bridge and get the latest updates on construction.
The Channel Cat will leave from the Riverbend Commons dock, 2951 East River Dr, Moline. These programs are $20 a person.
Register for Channel Cat Talks/Riverine Walks
CLICK HERE to register online for Channel Cat Talks.
CLICK HERE to register online for Riverine Walks.
CLICK HERE to download a copy of the 2019 Explore the River Series brochure.
If the captain or Riverine Walk leader cancels, a rain date may be scheduled. If you have paid and are unable to attend, River Action will consider your payment a donation. No refunds will be given.
New in 2019 – Art Along the River
For five Sundays, special "Art Along the River" sessions will be held as part of the Explore the River Series.
The programs, which cost $5 for non-members of River Action, include:
Poetry along the Banks with poet laureate Dick Stahl, Sunday, May 19. Participants will get a short introduction to the art of poetry writing and have an opportunity to write about a river sight or experience. New location: Schwiebert Park, Rock Island.
Painting: The River and its Structures with watercolor artist Tom Hempel, Sunday, June 23. Participants will do a personal individual sketch with coloring. Meet at Bechtel Park, Davenport.
Readers' Theater: 2 p.m., Sunday, July 14. New location: Lower Lindsay Park, Davenport, close to the John Bloom statute of two young boys pointing to a ferry on the Mississippi River. We will take a part in a readers' theater drama about various people coming to Iowa across the river. Everyone will have a chance to read a part in the play, but no preparation is necessary in advance. Bring a folding chair and park in the lot near the Channel Cat landing.
Native American Drumming with Regina Tsosie, Sunday August 11. Participants will receive an introduction to cultural and artistic aspect of Native American drumming. Meet at Watch Tower Lodge at Black Hawk State Historic Site, Rock Island.
Painting: The River Atmosphere with artist Stacey Replinger. Participants will learn techniques for making clouds, the sky, trees and water. After a short painting demonstration, participants will create their own watercolor painting.
To register for any of the five Sunday 'Art Along the River' sessions, CLICK ON THIS LINK, or select from the list of Riverine Walks by clicking on the registration link above.