July 18 Hydro Workshop 'Generates' Discussion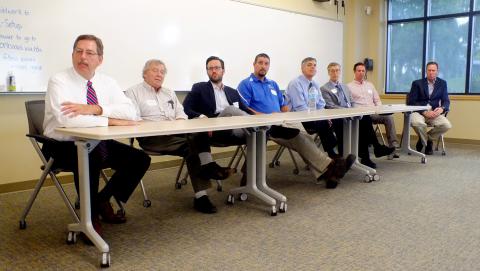 River Action hosted a workshop on hydropower at Western Illinois University in Moline on July 18. The event, "Hydro Potential on the Mississippi River," was attended by over 50 people from around the country and featured eight speakers who addressed the challenges, opportunities, benefits, and impact of riverine and reservoir hydropower. The speakers included inventors, engineers, biologists, and developers. The group assembled at the end of the day for a panel discussion and wrap up of the ideas presented. At the 2017 Upper Mississippi River Conference (UMRC) on Oct. 11-12, a hydro report will be delivered that encapsulates some of the workshop contents.
Read the white paper prepared by Western Illinois University's Institute for Environmental Studies. Speaker presentations are available as .pdfs here and more hydro info is available in the list below compiled by WIU interns, River Action and the hydro potential presenters.
Speaker Presentations
More Hydropower Links