Experience Mississippi River as it was first discovered. . . while paddling!
The Quad Cities area is rich with water. Paddling conditions on the Mississippi and Rock Rivers are perfect for multi-day excursions with camping access, afternoon urban getaways, and getting in touch with nature for all levels of paddlers.
The 45 miles of Quad Cities Water Trails also ties directly into 73 miles of recreational trails for exceptional cycling and hiking.
As the mighty Mississippi River carves its way toward the Gulf of Mexico, it carries with it a sense of great adventure, mystique and respect. Paddling the Mississippi and Rock Rivers can be a challenging, rewarding and awesome experience.
It demands your full attention at all times. Watching a towboat with a tow of barges navigate the river is an exciting experience, especially from the seat of a kayak or canoe.
Canoe and kayak rental outfitters
Check the water level of area rivers.

Come to the Rock River Trail to hike, bike, kayak, or canoe.
Click on map to download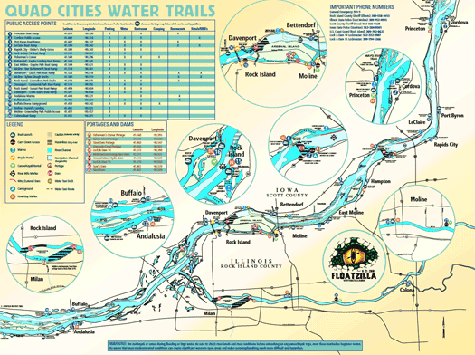 View water trails on Google Maps
View Quad Cities Water Trails in a larger map
RiverWay Water Trail Sponsors