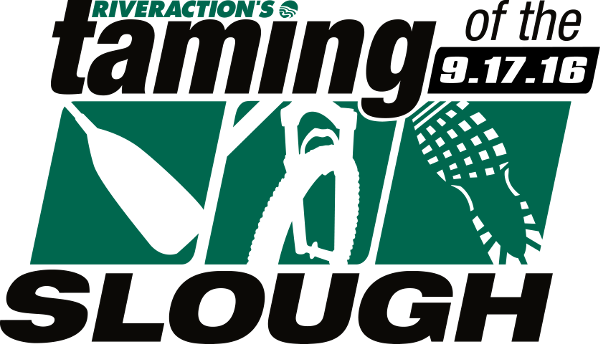 Want to see how you did for each of your splits or who placed? Check out your final results here. A special thanks to Jeff Castro at Accu-split Timing Company for our speedy results!
Check area river water levels here.
Join River Action for our annual Taming of the Slough Adventure Triathlon this fall. Paddle, mountain bike and run your way to the top.
Race individually or as a team, and celebrate at the finish—at the post-race party with pizza and beer.
Shirts!
The shirts this year are charcoal gray with River Action's Taming of the Slough logo being white and turquoise. We are providing the same design on both our Tech Shirts ($5.00 increase in registration) and our cotton blend shirt! If you missed Taming of the Slough you can still pick up a shirt at the River Action office at 822 E River Drive in Davenport.
New This Year
We are introducing the Male Elite and Female Elite registration categories. These categories are similar to the Individual registration, but are meant for the most competitive Tamers. If you chose the racing flight in the past, consider registering as an Elite for an added challenge!
Tune Up for Taming- August 25, September 1, 8, and 15 from 5:30- 7:00 pm
Tune Up is a series of training sessions open to Taming of the Slough racers and the general public. Free access to canoes and kayaks from Princeton Outdoor Adventures. Registered racers can reserve boats. General public first come, first serve. Meet at Empire Park in East Moline. Illiniwek Forest Preserve mountain bike course will be very similar to the race day setup.
Get prepared for Taming of the Slough or just enjoy some time on the river, or bike the off-road trails at Illiniwek Forest Preserve. It's a fun and loosely-structured event promoting adventure sports in the Quad Cities!
Packet Pickup
Packet pickup is Friday, 9/16, from 5:00-7:00 pm at Bent River Brewing Co – Moline Brew House (The Patio), 1413 5th Ave, Moline, IL 61265.
Course Details
The race is Saturday, 9/17, at 8:00 am.
All transitions take place at Empire Park in East Moline.
The Boat (Kayak or Canoe) is a 3.8-mile paddle around Campbell's Island.
The Bike is a short ride to Illiniwek Forest Preserve for a challenging mountain bike course returning to Empire Park (3.8 miles paved, 4.5 miles off-road, 400 ft. of elevation changes).
The Run is a 2-mile paved and off-road run finishing at Empire Park.
Team Competition
Compete individually or as a team
2-Person Team:
Consists of 2 members (start in canoe or kayak) who do all legs of the race.
Finish time is the average of both members' times.
3-Person Team:
Relay: Kayak, Bike, Run
Corporate Adventure Challenge: 3-Person Team:
Relay: Kayak, Bike, Run. Traveling trophy to honor each year's winner. Corporate teams also eligible for team overall awards.
Youth Division
Youth Division:
Introduced last year, the youth division is a reduced route for youths aged 12-17 years. Paddle 2.4 miles, bike 5.8 miles, and run 2 miles. Youth participants are required to attend one Tune Up session.
Important Note
You must provide your own equipment (bike, helmets, paddles, life jackets, canoe). Bike tires must be wider than 1.4 inches.
The race begins at 8:00 am. Please arrive prior to 7:30 to register or check in.
Canoe and Kayak Rental
Canoes & kayaks are available for rental through the following companies:
Thanks to our sponsors
Additional Support