How much did it cost to build Dillon Fountain?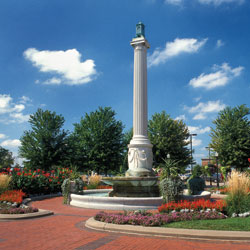 CLICK HERE for the audio about the Dillon Fountain, constructed in 1918.
You are standing at the foot of Davenport's Main Street, which was once known as "City Beautiful Boulevard."
Main Street was a proper Victorian horse and buggy promenade connecting Central Park with the Davenport riverfront. The beautifully landscaped buggy route featured a triumphant entry into downtown as it passed under the watchful eye of the lone Civil War infantry soldier standing guard at the crest of the bluff. It continued down hill toward the beacon light in the lantern atop the Dillon Fountain, which you see here.
Dillon Fountain was named in honor of Judge John Forrest Dillon, who was admitted to the bar in Iowa in 1852 and was appointed by President Ulysses S. Grant as Judge of the Eighth U.S. Circuit Court of Iowa. In 1869, he was appointed to the Federal Circuit Court Bench of Iowa, where he became famous after issuing what became known as the "Dillon Decision." The Dillion Decision enunciated the parameters of municipal powers and is still used in federal court cases to this day.
In 1879, Dillon moved to New York to become legal council for such giants as Western Union, the Union Pacific Railway, and nationally known financier and railroad developer, Jay Gould. Although far from home, Dillon retained a fondness for his home town and requested that his family build his memorial in Davenport. The Dillon Fountain's elegant 40-foot-tall fluted marble column, topped with a bronze beacon lantern, was designed by nationally noted designers Ware, Ware & Schultz, of New York City. It was completed in 1918, at a cost of $10,400. The fountain utilized an underground spring to provide the water jets, which spout from lion's heads and into the expansive raised pedestal fountain bowl.
If you look toward the river, you'll see what looks like a quaint little hot dog stand that was known as the Levee Inn. It was built by Archie Weindruch, of Bettendorf, in 1929. Generations of Davenport residents have enjoyed the culinary delights of dining outdoors beside the river at the foot of Main Street during the summer months at "Archie's" Levee Inn.
The Levee Inn's real claim to fame, however, will always be as the stationary benchmark from which to measure Davenport's most notable floods. Walk over to get a closer look at the giant yardstick on the north side of the building, which permanently documents the maximum height of Mississippi River flood stages for future generations. The 1993 grand-daddy of all floods, reaching 22.6 feet, sent the raging flood waters up to the eves of the Levee Inn. Our most recent flood in June of 2008 reached 21.3 feet.