How were logs floated down the Mississippi River to local lumber mills?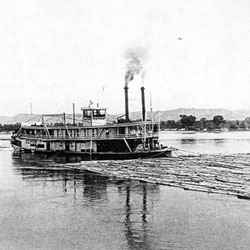 CLICK HERE to find out how logs were floated down the Mississippi to local lumber mills?
The town of Rock Island was made out of railroads and lumber.
The heyday of lumbering operations here was from the 1860's to 1905, and Rock Islander Frederick Weyerhaeuser was a true lumber baron. In 1856, four years after immigrating to the United States, he took his first lumber-related job as a night fireman in Rock Island's Mead, Smith and Marsh sawmill.
In 1860, he purchased a lumber mill with F. C. A. Denkmann, and later purchased large lumber stands in Wisconsin, organizing the Mississippi River Logging Company in 1870.
Logs were lashed together and floated down river as giant rafts that utilized oars for steering. The Rock Island riverfront of the late 19th century was characterized by hundreds of amassed logs – most of them either in this area or at the main Weyerhaeuser & Denkmann operation located about 15 blocks downriver. The lumber operation in this part of town occupied about six city blocks and was eventually consolidated into the Rock Island Lumber and Manufacturing Company and the Rock Island Sash and Door Works.
At your feet is the location of one of the earliest public works projects in Rock Island, the water pumping station. It was built largely through the generosity of Philander Cable, whose descendents would be instrumental in expanding the Rock Island Railroad. After a cholera epidemic, it was determined the water source should be located upriver from the sewerage of the city. The first pumping station was built here in 1882, with a 20-inch intake pipe reaching into the main channel of the river. In 1936, a comprehensive upgrade took place, resulting in the remodeled building that you see today. Three pumps bring in about five million gallons of water per day through this facility to serve present municipal water needs.
Today, this spot represents a significant national crossroads for bicyclists. In 2005, a bike and pedestrian bridge was added to the west side of the viaduct. It connects the City of Rock Island with the Arsenal Island, and is part of the east-west transcontinental American Discovery Trail. At this point, the American Discovery trail intersects with Mississippi River Trail, which is being developed as a 3,000-mile path along the river connecting its source at Lake Itasca with the Gulf of Mexico.
A new 10-foot wide sidewalk on Arsenal Island accommodates bike and pedestrian traffic connecting to Government Bridge and the City of Davenport.