Just how old is this limestone bedrock?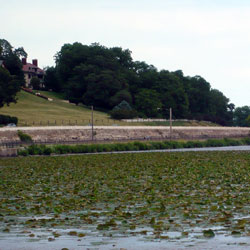 CLICK HERE to find out how old this white limestone bedrock is?
From the path here, one can see two prominent outcrops of limestone bedrock. One of these runs parallel to the railroad tracks, and the other lies just north of River Drive.
Some of the older buildings in the nearby Village of East Davenport have foundations built of this rock, presumably quarried from this very site.
The shallow bedrock here at one time created rapids in the Mississippi River, submerged now in Pool 15 upstream of the dam. Similar exposures of limestone are visible on Arsenal Island, directly across the main channel.
The rocks exposed here are part of the Pinicon Ridge Formation, a layer of limestone that is extensive in eastern Iowa. This layer of sedimentary rock was deposited during the Devonian Period of geologic time, probably between about 380 and 370 million years ago, when the center of the continent was covered by a shallow ocean.
Upon close examination of these rocks, several interesting characteristics stand out. First, several of the layers are composed of breccia, angular chunks of smaller rocks within a fine-grained matrix. These breccias probably resulted from the dissolution of rock salt or gypsum within some of the layers shortly after they were deposited. Secondly, there is a distinct lack of animal fossils in these rocks. Instead, one observes very fine layers, or laminations, in these rocks. Some of these laminations exhibit small dome shapes. Geologists interpret these features to have formed from mats of algae growing in a warm, salty, intertidal environment.