Which musical legend is celebrated each year with a festival at Davenport's LeClaire Park?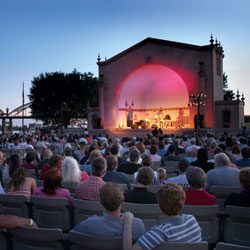 CLICK HERE for audio about Davenport's musical legend whose career began in LeClaire Park?
In 1911, the Davenport Levee Improvement Commission envisioned the creation of an English-style waterfront parkway in this location, on land that Antoine LeClaire had donated to the citizens of Davenport.
The serpentine promenade, laid out in the Beaux-Arts style, was designed by Reeves & Ramsey in 1912. The guiding hand behind this transformation of the abandoned industrial brick steamboat levee was riverfront champion W. D. Petersen, a German immigrant who founded the nearby Petersen Harned Von Maur Department Store.
Once completed, the first major addition to the new LeClaire Park was the dedication of the 40-foot-tall marble Dillon Fountain, in 1918 at the foot of Main Street. Then in 1924, Petersen built the Petersen Memorial Music Pavilion at the west end of the park as a memorial to his daughter, Wilma Hopkins Petersen.
The pavilion was built of concrete, limestone, terra cotta, and iron. While other levee buildings were primarily conservative Classic Revival styles, the Petersen Music Pavilion was built to be a timeless beauty; decorated with gilded free-standing rope-twisted columns, minaret-shaped pinnacles, a frieze of musical lyres with gold and cobalt finals, iron grated windows, and side niches. It was modeled after the organ pavilion featured at the 1915 Panama California International Exposition in San Diego.
Today, LeClaire Park is where every July tens of thousands of Quad Cities' residents and tourists gather to celebrate native son Bix Beiderbecke at the annual Bix Memorial Jazz Festival. It is fitting the Bix Fest is held here, as this area was a favorite spot for Bix who, as a teenager, would sneak off to the banks of the Mississippi to listen to bands play on the riverboats. Most of these boats came from the South, providing early musical influences for Bix from noted New Orleans coronet players.
If you walk toward the band shell, you can see a bust of Bix, remembered today for the fact he played the coronet like no one else. He developed his own individualistic style of jazz, unlike his predecessors and which influenced those who followed. As Louis Armstrong said, "Lots of cats tried to play like Bix; ain't none of them play like him yet." Bix's life was cut terribly short as he died at the age of 28 in his Queens, New York apartment from complications relating to his alcohol use.