In what year was Rapids City incorporated?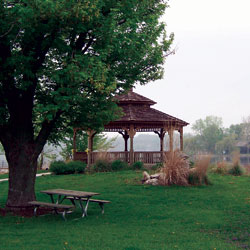 CLICK HERE to find out in what year Rapids City was incorporated.
Welcome to Rapids City.
This small town on the banks of the Mississippi River was incorporated in 1875. 
Its name came from the fact the village is located at the head of the Rock Island Rapids, the notorious rapids that started in this segment of the river and continued downstream for 14 miles to Rock Island and Davenport.
The rapids proved treacherous for many riverboat captains, and caused so many problems that an early lock system and Great Wall were constructed in Moline in 1907 to make this segment of the Mississippi more passable.
By the 1930's, a system of locks and dams were devised that would help maintain a channel at least nine feet deep at all times. It's only with our current system of locks and dams that barge traffic is able to negotiate this segment of the Mississippi River.
In the early 1880's, Rapids City had two coal mines that helped draw people to the town. The population peaked at this time with about 3,000 residents.  The mines closed in 1888. 
Rapids City also had a flour mill which used hydro power from the river to turn the paddle wheels and grinding stones. When the mill was abandoned during the early 1890's, many people moved to find work in the larger cities. 
 
Now Rapids City is a small, quiet community with a population of 953. The town has seen some growth in recent years with new subdivisions, a boat ramp and the Mississippi River Trail, which provides 65 miles of recreational path for bikers and pedestrians from Savannah to the Quad Cities. Rapids City also has two public parks and baseball diamonds, as well as Schulyer's Shady Grove, a campground which offers recreational access from the public boat ramp and Mississippi River Trail.