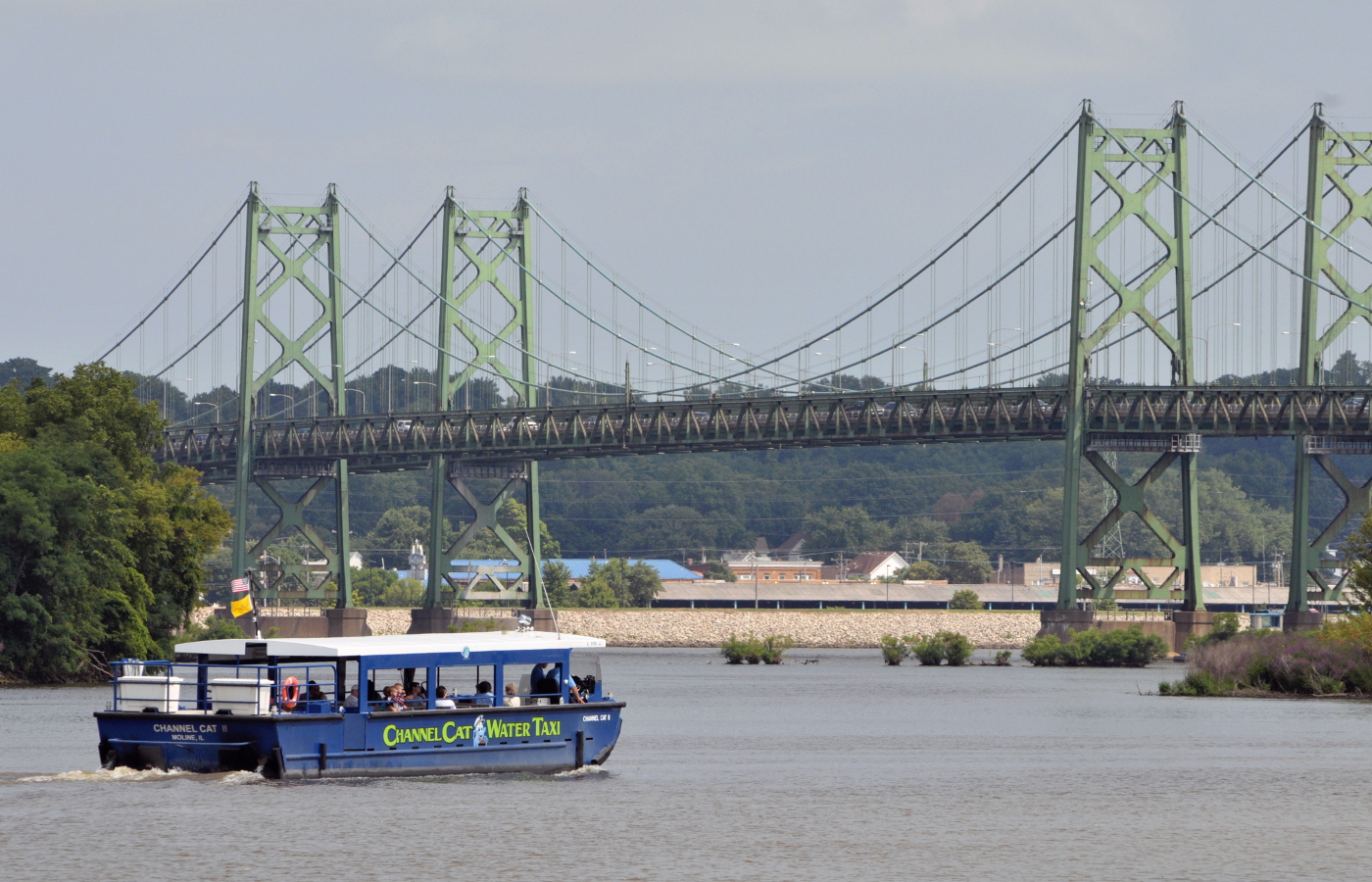 Explore the River Series
Channel Cat Talks and Riverine Walks
Explore the river this summer through a program which teaches participants first-hand about the wildlife, history, culture and geology of the Mississippi River and the Quad Cities through Channel Cat Talks and Riverine Walks, May 29 through September 1.
Join us in learning about the unique nature and culture of the Quad Cities. Check out our schedule by clicking on the "Read More" link below.
We would like to extend a special thanks to to our sponsors this year, including Scott County, QC Times, MetroLINK, Mancomm, and Greg & Judy Gackle.
When registering online, the shopping cart will add the two programs (Channel Cat Talks and Riverine Walks) together unless you "Clear" the cart between viewing the two different shopping cart links below.
Building a Bridge for the Future: The I-74 Mississippi River Bridge Project Tours- SOLD OUT
River Action will be hosting four tours about the I-74 Mississippi River Bridge Project on the Channel Cat Water Taxi. The tours will be offered Wednesday, September 12 from 9:00-11:00 AM and 11:30-1:30 PM, and Wednesday, September 19 from 1:30-3:30 PM and 4:00-6:00 PM. Please join Danielle Mulholland, I-74 Project Manager, as she discusses the planning and construction process for this important east-west link in the nation's transportation network. You will learn about the design and building process of the bridge and get the latest updates on construction. The Channel Cat will leave from the Riverbend Commons dock, 2951 East River Dr, Moline. These programs are $20 a person.
These tours are sold out! We apologize for the inconvenience and are excited about the enthusiasm the community has for these tours. We will coordinate these Channel Cat Talks again next year. Don't forget, you can always see construction on the Channel Cat while attending our other programs. Thanks!
Channel Cat Talks and Riverine Walks
CLICK HERE to register online for Channel Cat Talks.
CLICK HERE to register online for Riverine Walks.
CLICK HERE to download a copy of the 2018 Explore the River Series brochure.
If the captain or Riverine Walk leader cancels, a rain date may be scheduled. If you have paid and are unable to attend, River Action will consider your payment a donation. No refunds will be given.